2. Birthright - The Warlock Legacy Book 2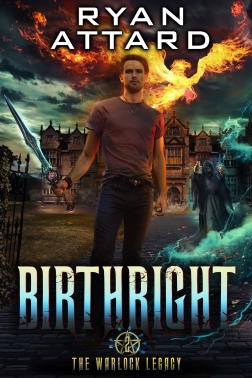 Buy from:

Meet Erik Ashendale: Detective, Wizard, Monster Hunter. In a world where magic is very real and monsters hide in every dark alley, Erik keeps people safe by taking on anything that goes bump in the night.

Already embroiled in a war between Heaven and Hell, the last thing Erik needs is to babysit his apprentice, who seems intent on messing up so bad she's bound to get herself killed. To make matters worse, the mysterious power he had awoken last time one of the Seven Deadly Sins attacked is making his own magic go awry.

So what's a wizard to do? Head over to the ancient immortal — and possible avatar of God — Sun Tzu for a stiff drink… or maybe six.

While his apprentice is going through her trial, Erik delves into his own dark past, reliving his early days of training to be a warlock. From losing his magic to a phoenix, to planning murder with his demonic tutor, training under a magic monk, and being forced to duel for the sake of a family that abandoned him long ago, the last place Erik wants to visit is home…

Home, sweet psychotic home.

The Warlock Legacy series is an action-packed urban fantasy thriller book series, great for fans of Jim Butcher, Sarah J. Maas, Kevin Hearne, Steve McHugh, Michael Anderle, Ilona Andrews, Patricia Briggs, Shannon Mayer, K.F. Breene, and Shayne Silvers.



Review
"If you like adventure and excitement along with magic and some humor then you must read this book and the others in the Legacy series."

"I love magic and fights and adventure. This book has all that and more."

"I really like the characters in this series. Love the demon cat. And always find myself cheering for Erik and hoping he finds his peace."

"Half way through I decided to buy the whole series because of this book."

"I am looking forward to more from this author. Fun read highly recommend for any fan of urban fantasy."
$4.99 USD