1. Firstborn - The Warlock Legacy Book 1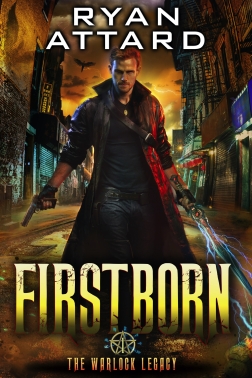 He specializes in the vile and vicious. But if he fails, no one will stop the onslaught of darkness…
Erik Ashendale sees himself as a hero. Desperate to distance himself from his terrible childhood and evil twin sister, the professional monster hunter just wants to do some good. So he buckles down when an angel whispers in his ear requesting protection for a succubus targeted by his sinister sibling.
Vowing to defend the girl who hasn't discovered her demonic powers, Erik is peeved to learn he's also supposed to deal with a freshly awakened ancient force. And now he's about to unload all his badass skills at once for any hope of holding off an angelic blitz targeting Earth… and an attack by one of the Seven Deadly Sins.
Can this wise-cracking beast-slayer save the world from a horde of Heaven-sent Hellions?
Firstborn is the electrifying opening tale in the Warlock Legacy urban fantasy series. If you like snarky protagonists, thrilling action, and fascinating worlds, then you'll love Ryan Attard's race against catastrophe.
Buy Firstborn to count on chaos today!
Review
"I enjoyed these books VERY much ... if you like urban fantasy, these are the books for you!" - Paige Sauvetterre, Amazon reviewer ★★★★★
"Astounding! What happens when you mixed kickass human wizard, demon familiars, angels , succubus and female warlocks? You get Ryan Attard's Firstborn" - Jenelle Roberts, Amazon reviewer ★★★★★
"If you read, and enjoyed Harry Dresden books, you will love this guy." - Amazon reviewer ★★★★★
"I gave this book 5 stars because I thought it was good and I enjoyed it very much. Once I started I couldn't stop reading. And when the end came I didn't want it to end. That's how good it was. That's how much I enjoyed it." - ABCD, Amazon reviewer ★★★★★
"A great read, and a great introduction to a new-for-me author and series. Love the snark, love the action, love the magic, and love knowing that I was right all along - there really is a little demon hiding inside my cat." - Sara Smolarek, Amazon reviewer ★★★★★
"If you are a fan of Jim Butcher, but you always felt that there is room for a little more humour in his works, then do yourself a favour and add Ryan Attard's Firstborn to your reading list." - Sorin Suciu, Amazon reviewer ★★★★★
"Well done, a brilliant debut novel and an author I will certainly be following from now on." - Red_Rav, Amazon reviewer ★★★★★
$3.99 USD