3. Lost Ones - The Warlock Legacy Book 3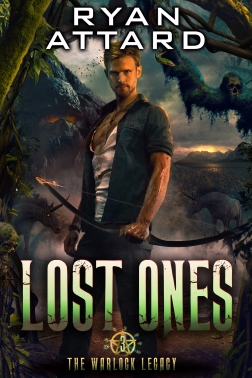 Buy from:

Meet Erik Ashendale: Detective, Wizard, Monster Hunter. In a world where magic is very real and monsters hide in every dark alley, Erik keeps people safe by taking on anything that goes bump in the night.

Erik has faced some terrifying foes during his career. From giant werewolves and crazed vampires, to conniving demons and warmongering angels, he's nearly seen it all. But in all of his years, he never had to face anything like this: a video game infused with magic that's drawing anyone with even a little power into a cult.
A cult that has also just stolen a device capable of tearing down the walls between dimensions.

When a new angel with some serious anger issues joins in, Erik finds himself fighting both enemies and allies in an effort to keep the world from collapsing as another dimension opens on top of ours.

The countdown to the apocalypse is on and unless he figures out how to stop it, Erik may find himself forever trapped in this new world while his home—and everyone he knows and loves—turns to oblivion…

The Warlock Legacy series is an action-packed urban fantasy thriller, great for fans of Jim Butcher, Sarah J. Maas, Kevin Hearne, Steve McHugh, Michael Anderle, Ilona Andrews, Patricia Briggs, Shannon Mayer, K.F. Breene, and Shayne Silvers.



$4.99 USD