5. Nemesis - The Warlock Legacy Book 5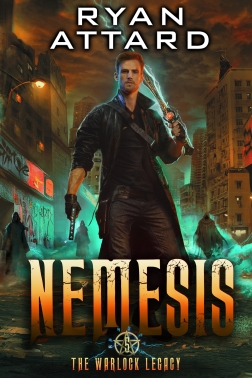 Buy from:

Love. War. Death . . .

Erik Ashendale should be happy: he's in a relationship with a sexy, dangerous witch, business is good, and he's even gaining ground on the war on monsters. But he hasn't taken into account Alan Greede: CEO, master of the dark arts, and current host of the Sin of Greed.

Now he's got more than he bargained for. There's a race on to save a tribe of peaceful creatures that Greede intends to use as bioweapons; peace talks between powerful magic nations are turning chaotic; and Erik's only just discovering that what Greede has in mind doesn't put just our world at risk.

On top of all that, Abi's estranged — and fully demonic — mother has returned, and brought with her more than just emotional baggage . . .

The Warlock Legacy series is an action-packed urban fantasy thriller book series, great for fans of Jim Butcher, Sarah J. Maas, Kevin Hearne, Steve McHugh, Michael Anderle, Ilona Andrews, Patricia Briggs, Shannon Mayer, K.F. Breene, and Shayne Silvers.
$5.99 USD